Check, check 1.2.3…
Although, I've been radio silent for some time I'm ready to dive back into blogging, inspiring, oversharing food, fitness, and fun with all my peeps. This summer has been crazy good and hectic on the life and business front. While at times, I've wanted to pull my hair out I honestly I wouldn't have it any other way. Unfortunately, that means from time to time, this space is neglected. I'm working on balance, but is that even a thing?! HA.
Anyway, yours truly is still counting macros and slaying the food making game. Because everything is better in a bowl today I'm sharing one of my favorite dinners, the burrito bowl!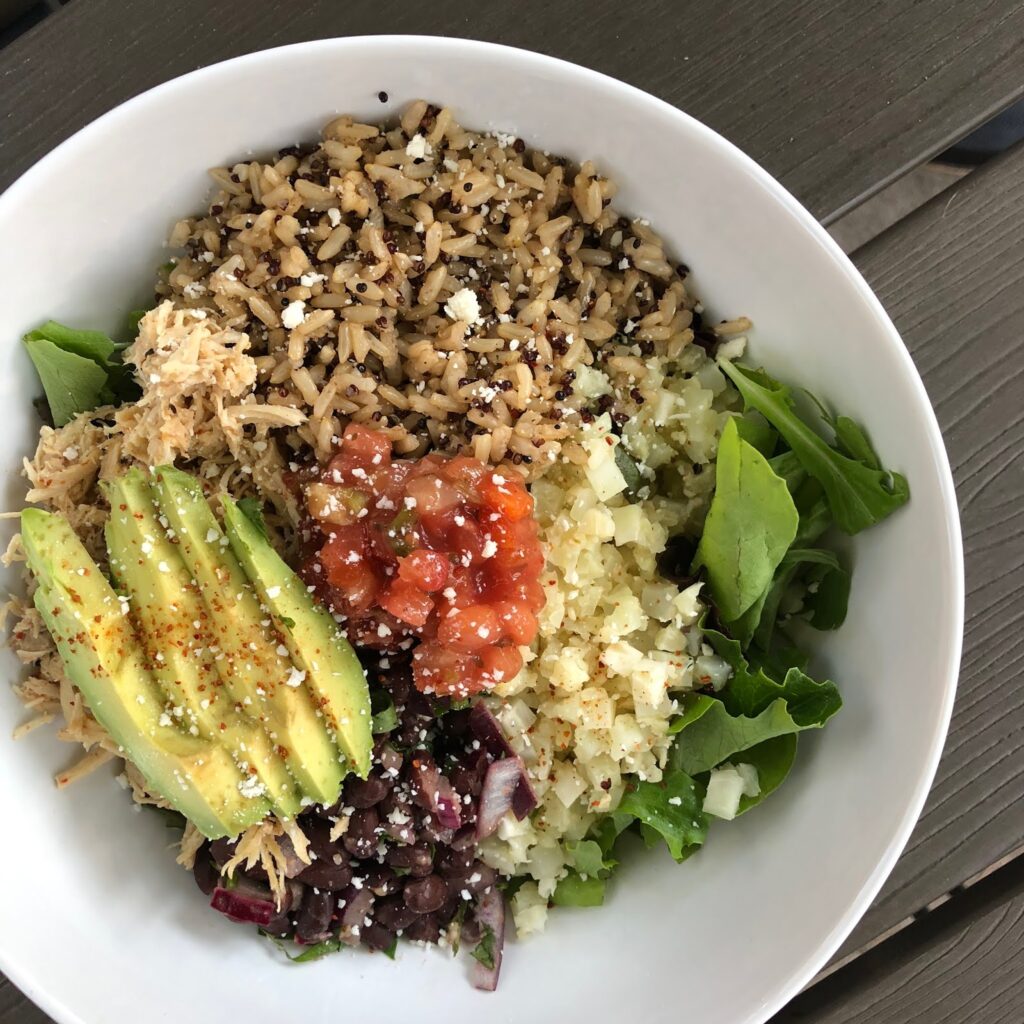 What you need to build your next burrito bowl.
– greens (I prefer spring mix)
– protein (chicken, pork, beef, shrimp, etc.)
– beans (I prefer black beans)
– veggies (think corn, cauliflower, etc.)
– salsa or hot sauce
– avocado or guacamole
– rice (pick your favorite; sweet potatoes work too)
– cheese (I prefer feta)
– chips on the side (optional)
Once you have all the goods cooked start layering your bowl. I start with greens and end with salsa/avocado and a sprinkle of cheese.
It's honestly that simple and quick. This a great way to use leftovers during the week. I even used a 90 second Seeds of Change Quinoa & Brown Rice pack for the bowl above. We buy a box at a time from Costco. For the black beans, once drained and rinsed I cook them on the stove top with minced garlic, onion, cilantro, and lime.
Also, I don't use little cereal bowls. I like using these bigger bistro bowls from Crate & Barrel.
Well folks, there you have it my go-to burrito bowl. I eat this at least once a week – not kidding. The goal this fall is to check in more often so I hope to see you around. Until then don't forget to follow along on Instagram!
Chicken Burrito Bowl Pictured Above
Macro Breakdown: 49C/11F/29P
Calories: 410