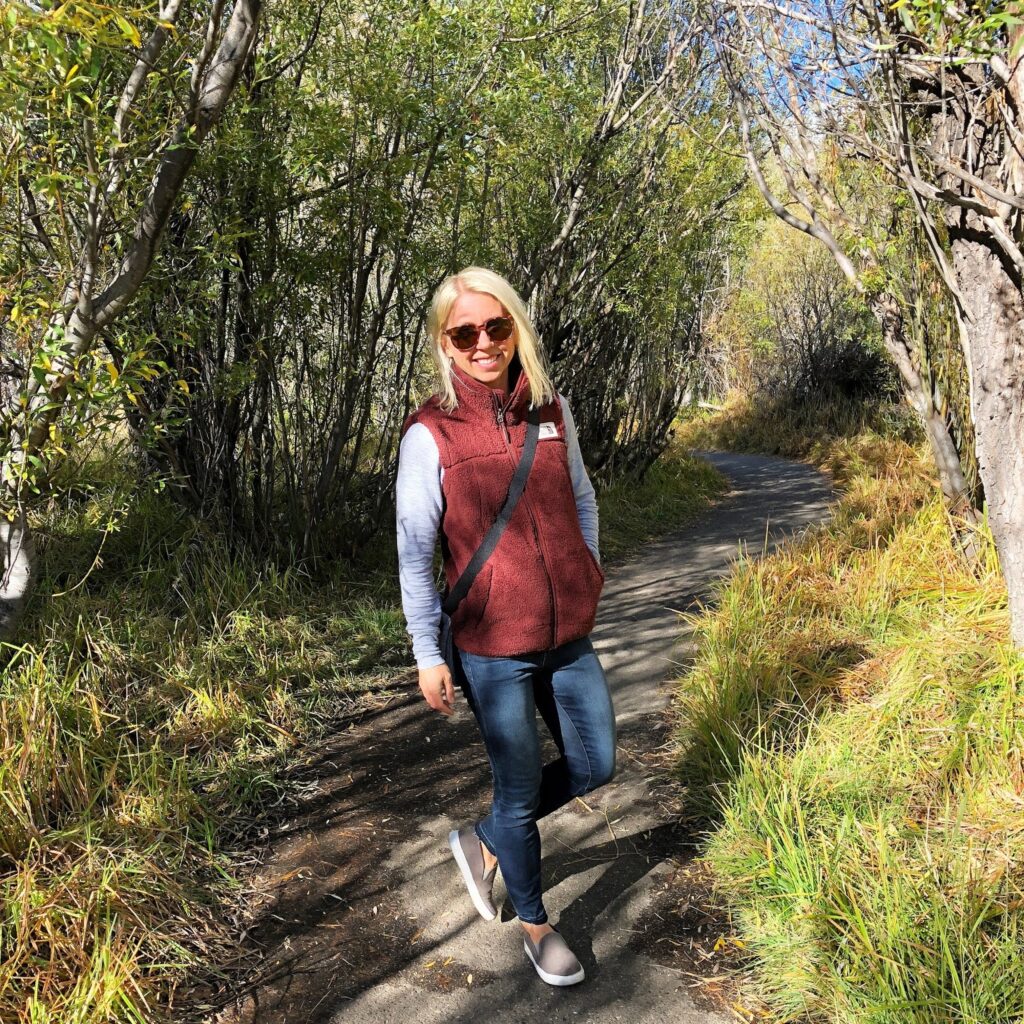 Happy Fall!
The temps are official lower than I like in Tahoe, but that's ok. I'm talking mid 40's for the majority of the day, eek. We're enjoying all things Fall like apple picking and leaf peeping! But with cooler weather comes more layers, cozy jackets and warm fires among other things. While I might not be a fashion blogger I know a thing or two about dressing for Lake Tahoe temps.
Here are my 5 Lake Tahoe Fall Essentials

A Vest For Layering
I love a good vest for layering over a sweater. Truth be told I have 5 vests, but really only where 3. What can I say I'm a creature of habit. You'll want a basic quilted vest, puffy and a furry number like the one I'm wearing. Vests are perfect on days that are a bit brisk in the morning, but warmer in the afternoon. It will give you the extra warmth you're looking for. I'm currently eying this NAU Ellipsis Down Vest.

Puffy Jack
If you walk around Tahoe for more than 5 minutes you'll notice the majority of folks are wearing a puffy. Why? Well, my friend because they are super warm and easy to pack. I'll tell you right now they are also worth the investment. There are only two I recommend the Patagonia Down Sweater Full-Zip Hooded Jacket (it also comes without a hood) and The North Face ThermoBall™ Full Zip Jacket

A cute pair of Jeans
Trust me ladies leggings aren't going to cut it. Right now I'm digging Levi's 721's. That's it 🙂

Boots
While I love my cozy uggs they don't really cut it when it comes to rain and snow. While Hunter boots seem to be stylish they are not going to keep your feet warm. I suggest investing in a pair of Sorel boots. I'm currently leaning towards these or these!
Mid-weight Sweater
A good sweater is perfect for layering in the morning, but still light enough for warmer afternoons. I recently purchased this Lou & Grey Sweater (FYI, I bought a small so it was a tad oversized) and this Lou & Grey Sweater is sitting in my cart. Call me crazy, but A&F has decent layering sweaters too. This A&F asymmetrical pullover was my favorite purchase last fall! I'm kind of digging this A&F Quilted Sherpa Jacket.
Oh and always pack a scarf! You never know when it might come in handy.
There you have it, folks, my key essentials for fall in Lake Tahoe!