I'm back, back again with a treat for you!
Did you know there are 10 varieties of USA pears? Yeah, neither did I, even though I receive a box of pears for Christmas every year. Aside from poached pears, I've never baked with pears. Crazy, right? With that said, I decided to bake something quick, simple and delicious with items I had on hand.
As a result, a gluten-free Cranapple & Pear Crumble was created. It's the perfect example of using what you have on hand and just going for it. I had cranberries in the freezer, an extra apple, lemon, and all the baking essentials.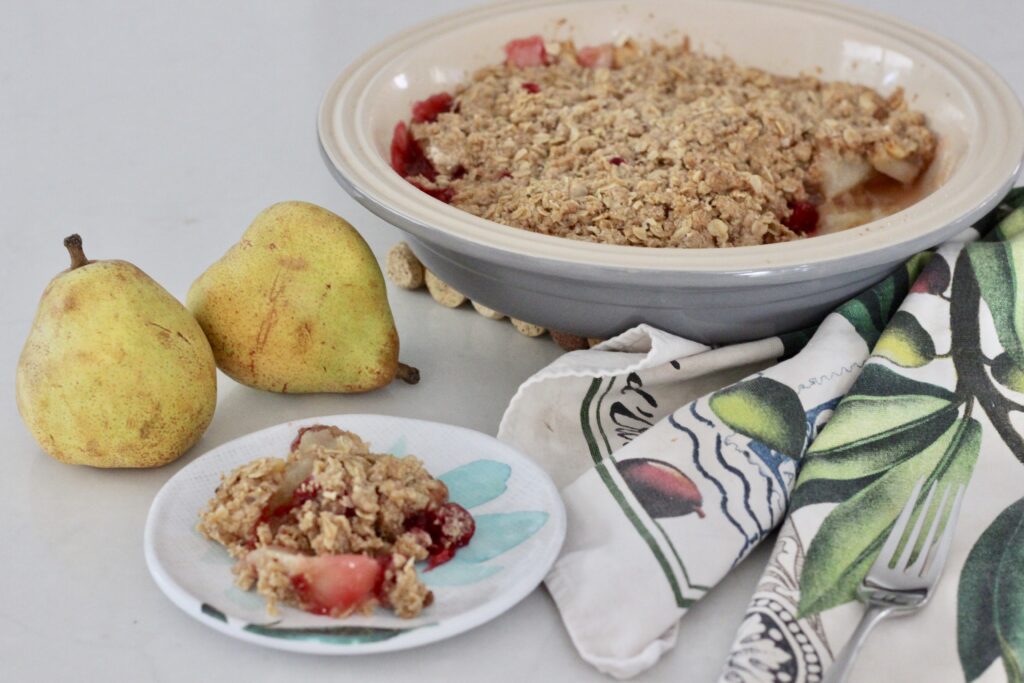 We're huge fans of crisps and crumbles. For instance, instead of cake for birthdays, unless it's carrot or german chocolate cake, my hubby and I would much rather have a crumble of some sort.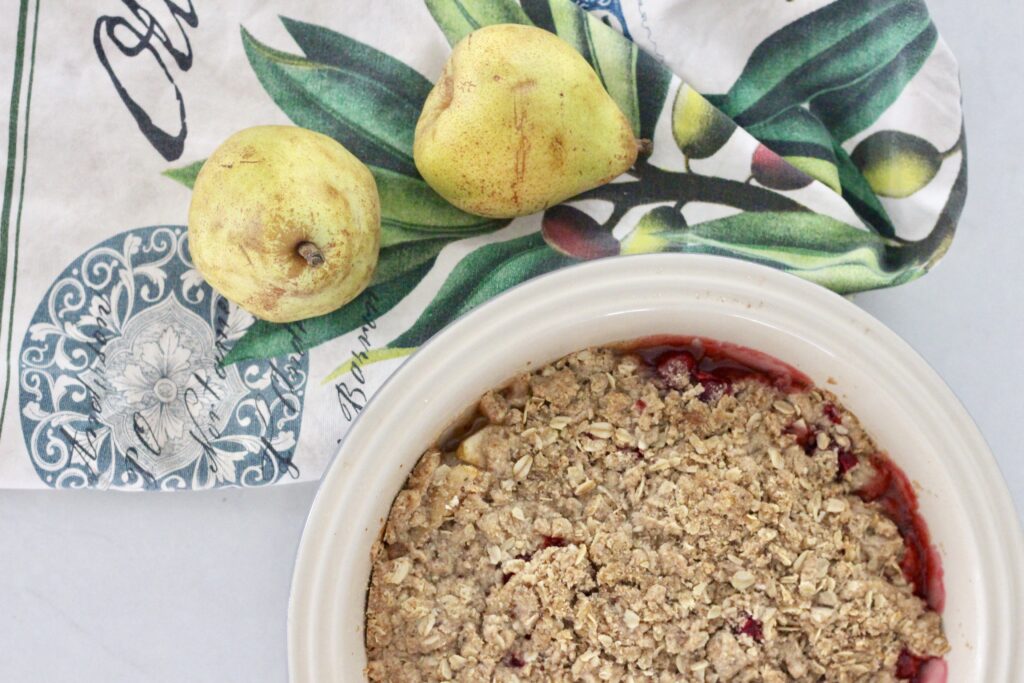 Crumbles are best enjoyed morning, noon, or night. So don't worry when it's calling your name while pouring your morning cup of coffee. No judgment here.
For example, enjoy it at breakfast with greek yogurt or after dinner topped with ice cream. See what I did there? You're likely thinking "what ingredients I have on hand," and "what do I need." Am I right?
In conclusion, if you have some pears on hand whip up a crumble this weekend.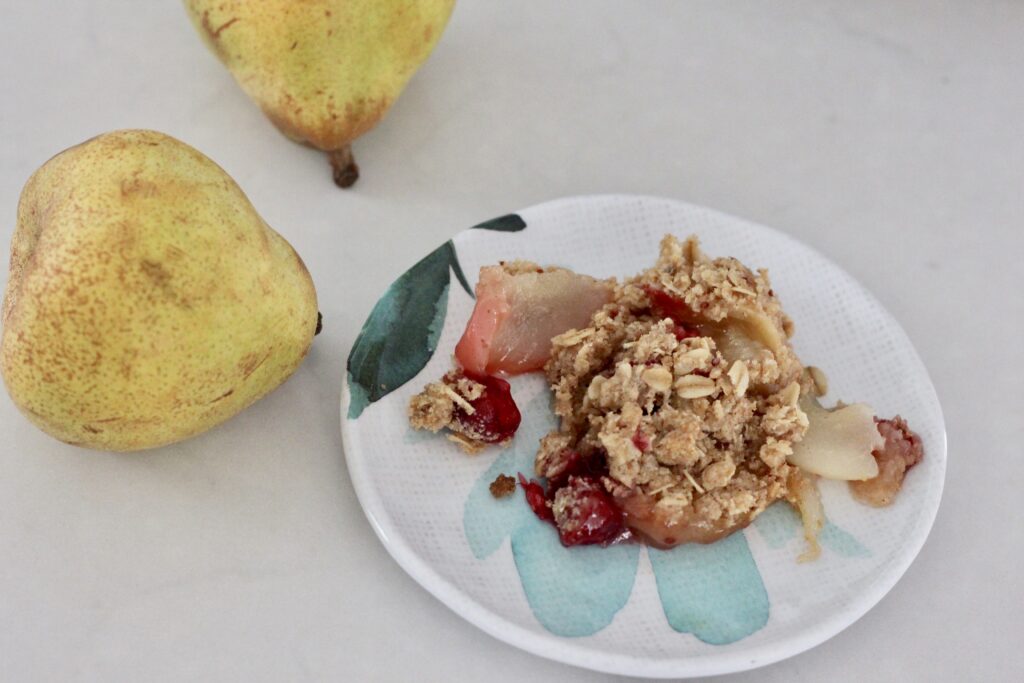 Gluten-Free Cranapple Pear Crumble
Ingredients
Filling
16oz Bosc Pears (roughly 3 pears), peeled & cored
125g Apple (roughly 1 medium apple), peeled & cored
100-150g Cranberries (fresh or frozen)
15ml lemon juice (about half of a lemon)
1/2 tsp lemon zest
1/2 tsp vanilla extract
Crumble
100g GF all-purpose flour (regular flour works too)
60g The Soulfull Project Hearty Grains & Seeds Hot Cereal
1/4 tsp ground ginger
1/4 tsp ground cinnamon
1/4 tsp ground nutmeg
1/4 tsp ground allspice
1/8 teaspoon table salt
113g unsalted butter (1 stick), grated
Directions
Preheat the oven to 350°F. Lightly spray an 8×8 square or round baking dish.
Mix the pears, apples, cranberries, lemon juice, lemon zest, and vanilla in the baking dish. In a separate bowl, whisk the sugar and cornstarch before adding to the fruit mixture. Toss until evenly coated and set aside.
In a medium bowl, whisk the flour, sugars, oats, and spices. Once combined, add grated butter and combine using your hands or fork until large crumbs form.
Sprinkle crumble evenly over the fruit mixture. Bake for 45-50 minutes until the crumble, is a shade darker and you see juices bubbling through the crumbs.
Enjoy as-is with a side of yogurt for breakfast or vanilla ice cream after dinner.
Makes 6-8 servings
Macros for roughly 1/6 crumble 62C/17.5F/4P
Looking for other tasty holiday treats? How about a Classic Magic Bar recipe?!
This post was sponsored by USA Pears. All opinions are 100% my own. #usapears #cookingwithpears