This shop has been compensated by Collective Bias, Inc. and its advertiser. All opinions are mine alone. #ZonePerfect #MadeforBetter #CollectiveBias​
Hi! I'm Tiara, if you didn't know, a macro counting, CrossFit loving, chocolate-eating coach. You may not know, but June will mark three years since I started counting macros! Over time my macro breakdown has changed depending on goals. For instance, when you count macros, you adjust the carb, fat and protein ratios, to help achieve goals like losing weight, gaining muscle, or cruising around in maintenance mode.
What exactly are macros? Macros, short for macronutrients, are the fat, protein, and carbohydrates that make up food and help you create energy. You'll typically find them broken out on nutrition labels.
So you think you're ready to track and count macros and live that 40/30/30 lifestyle! High fives all around. But you don't know where or how to start. You can either hire a coach or give it a go on your own.
Let's say you're giving it a go alone. Simply visit the new macros calculator on ZonePerfect.com, enter in all your stats and set ratios at 40% carbs/ 30% fat/ 30% protein. This is a good starting point for first-timers. The ZonePerfect macros calculator will calculate your macro breakdown as well as tell you how many grams of carbs, proteins, and fats are right for you to consume each day. For example, right now my breakdown is 250g Carbs, 60g Fat and 115 protein.
At this point, I feel confident in my ability to track or intuitively fuel my body. I also feel good walking into Walmart knowing I can purchase products, like ZonePerfect Macro Bar Birthday Cake, to help keep me balanced whether I'm heading to the gym, skiing or just running errands. The ZonePerfect Macros Bar also comes in other delicious flavors, like White Chocolate Peanut Butter and Fruity Cereal!
ZonePerfect Macro Bar offers the ratio of 40% carbs, 30% protein, and 30% fat as a percent of calories that nourishes your body and delivers on-the-go energy. Macros Bars are high in protein and have only 1-2 g of sugar, providing balanced nutrition with a purpose. Perfect for pre-workout, recovery, or just powering through your day!

Try the ZonePerfect Macros Bar for FREE! ZonePerfect is sending free samples of these Macros Bars to anyone who wants to try them.​ Find the offer HERE.​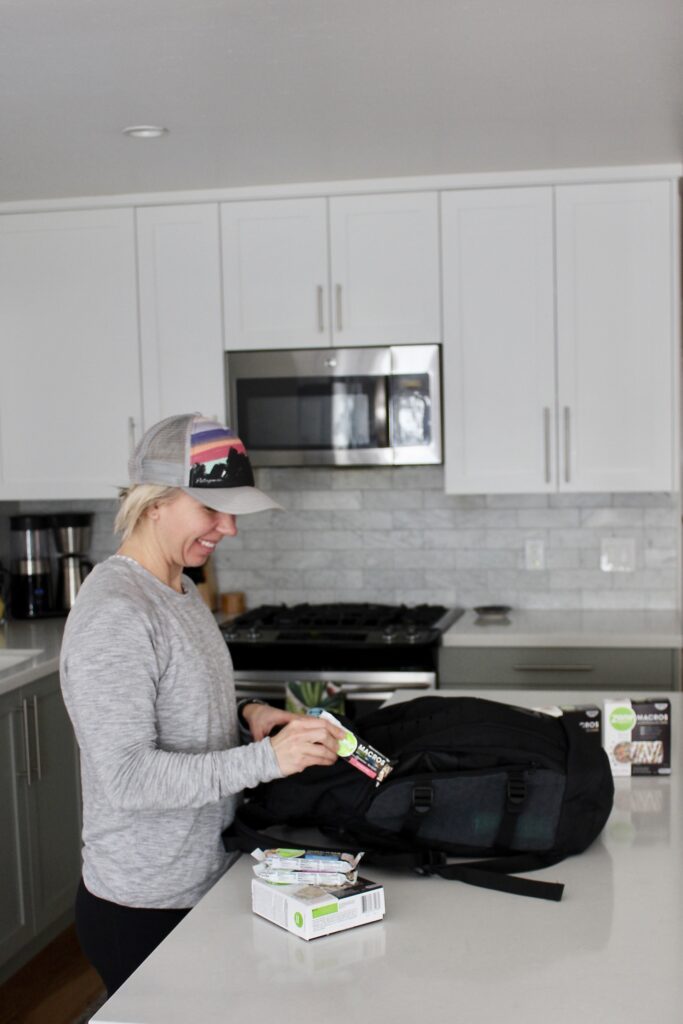 Next, you'll want to practice logging meals, recipes, etc. Once you're comfortable logging then you'll work on hitting your daily macronutrient goal -/+ 5 grams by subtracting or adding items based on macronutrient needs. If you want to fine-tune it, even more, you can purchase a food scale from Walmart, and weigh everything before eating and logging.
Yes, there's a learning curve, but after a few weeks, it gets easier. I promise. If done right and you're consistent, your progress should be slow and steady. Why slow and steady? Because you want to maintain for a lifetime. Macros aren't a quick fix, but tracking will teach you the composition of food, what your body needs to thrive, and how to live without restriction.
Tip + Tricks
Plan/pre-log your day the night before.
If you want something like a dinner out, chocolate, etc. log the item/meal first and work your day around it.
Eat protein with every meal.
Always pack snacks.
Drink plenty of water.
Aim for 7-8 hours of sleep a night.
Eat minimally processed foods, but make room for a special treat.
If you want to eat something eat it, log it and move on.
Don't stress about one-off meal or day it's all about consistency over time.
Make sure to fit in the foods you enjoy.
Ask all the questions.
Above all else, remember progress takes time. In 2020, let's focus on progress, not perfection. The next time you're at Walmart pick up a box of
ZonePerfect Macro Bars
and join the conversation via the ZonePerfect "Made for Better" campaign
HERE
.