Hello, my name is Tiara and I love food…
Yes, I'm a picky eater and try to eat as clean as possible. However, there's always room for treats and wine.
When I do splurge on a sweet treat I prefer homemade cake, ice cream, cookies, etc. Homemade might take a little more effort, but it always tastes better.
Sunday was the hubby's birthday which is the prefect excuse to make something yummy. He's not the biggest fan of chocolate so I had to think outside the box. Recently I've been cooking my way through Bonjour Y'ALL and turned to it for some dessert inspiration. Hello, yum! Heidi hit the dessert section out of the park. You know you have a great cookbook when the dessert section is off the charts. Think Coconut Custard Cake, Triple Chocolate Mousse and Black Forest Torte among others. I decided to test out the Blueberry & Raspberry Tart and it was a crowd pleaser.
Before digging further into Nick's birthday treat…
It's not often that I'll rave about an entire cookbook, but the southern fusion cookbook Bonjour Y'ALL [c/o] is high on my list. I'm not kidding when I say it's on current rotation. Favorites so far include Watermelon Freeze, Bacon Tomato Jam, Heirloom Tomato Salad, Gruyere Puffs, Peach Pork Tenderloin and Bananas Foster French Toast. Plus, I love Heidi's story — she followed her heart, took a chance, and made her dream happen.
With Bonjour Y'ALL, Heidi's Fusion Cooking on the South Carolina Coast, you're able to bring a little piece of Croissants Bistro & Bakery home with you. Heidi's easy to follow instructions make it easy for any self proclaimed home cook to master French Bread, Shrimp & Grits or French Macarons.
About Bonjour Y'ALL
"Bonjour, Y'All," the slogan for Heidi Vukov's Croissants Bistro and Bakery in Myrtle Beach, South Carolina, perfectly encapsulates the popular restaurant's elegant and delicious pairing of two distinct culinary traditions—European cuisine and Southern home cooking. This book celebrates Croissants' diversity, featuring dozens of menu delights such as Crab Cakes, Angry Bulls Bay Clams, and Peach Pork Tenderloin, recipes that successfully combine the elegance and finesse of the French palate with the hospitality and warmth of the Southern kitchen. Also included among the more than fifty recipes are German and Italian-inspired dishes, summer cocktails, and sumptuous confections such as Black Forest Torte from Croissants' award-winning European bakery.
Ok, ok — lets talk about this Blueberry & Raspberry Tart… Can you say AMAZING!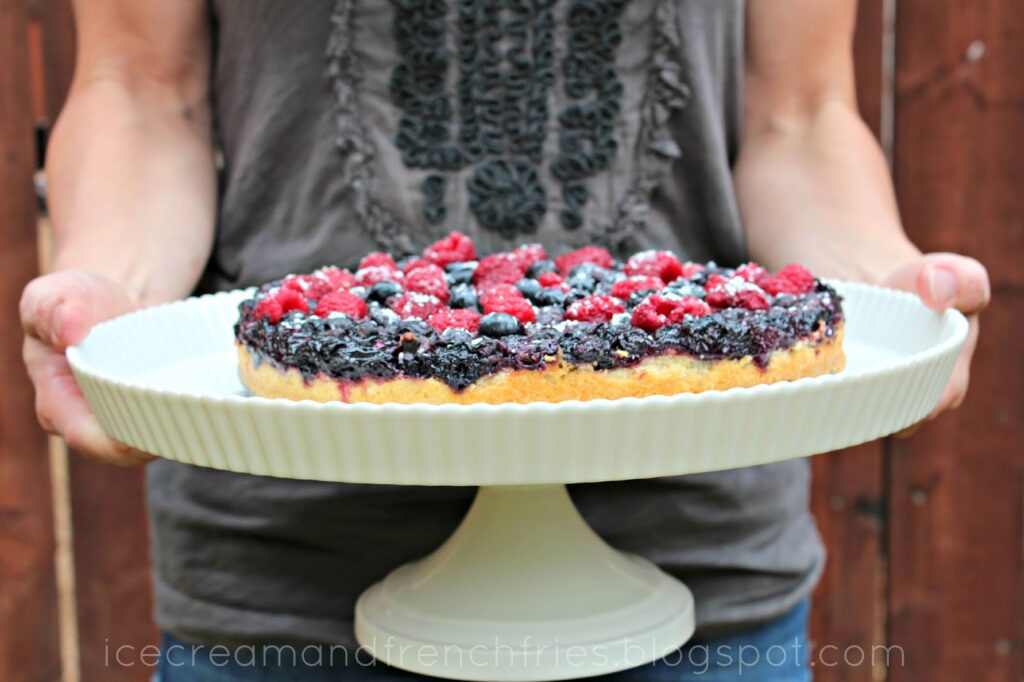 Cooked to perfection.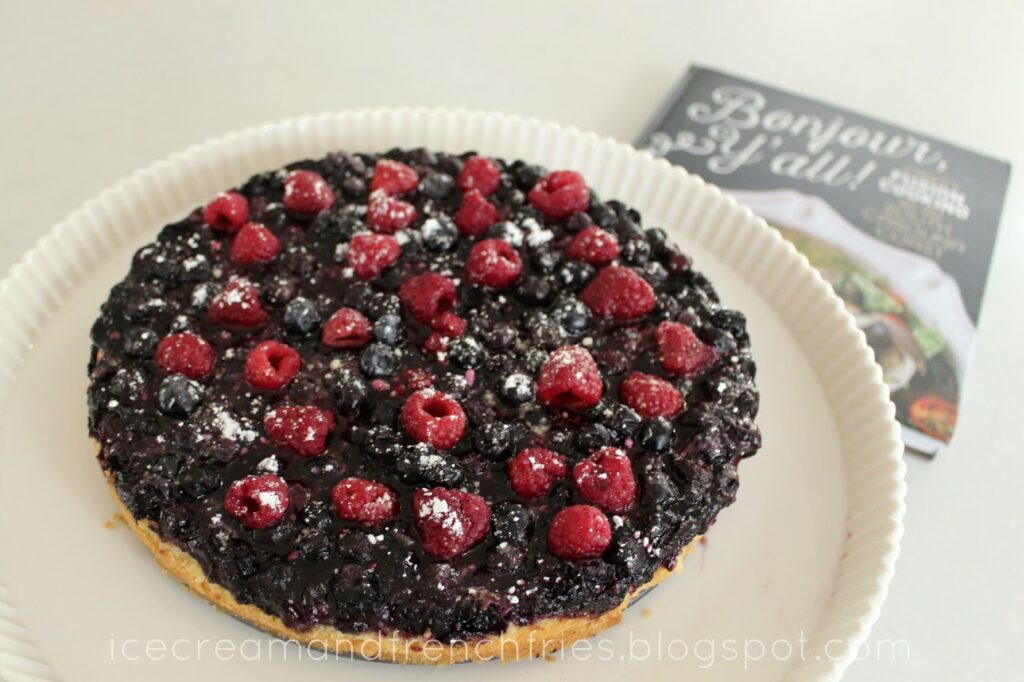 Of course, we shared it with some friends. I was quickly told it the tart needed to be on repeat. Thanks Heidi!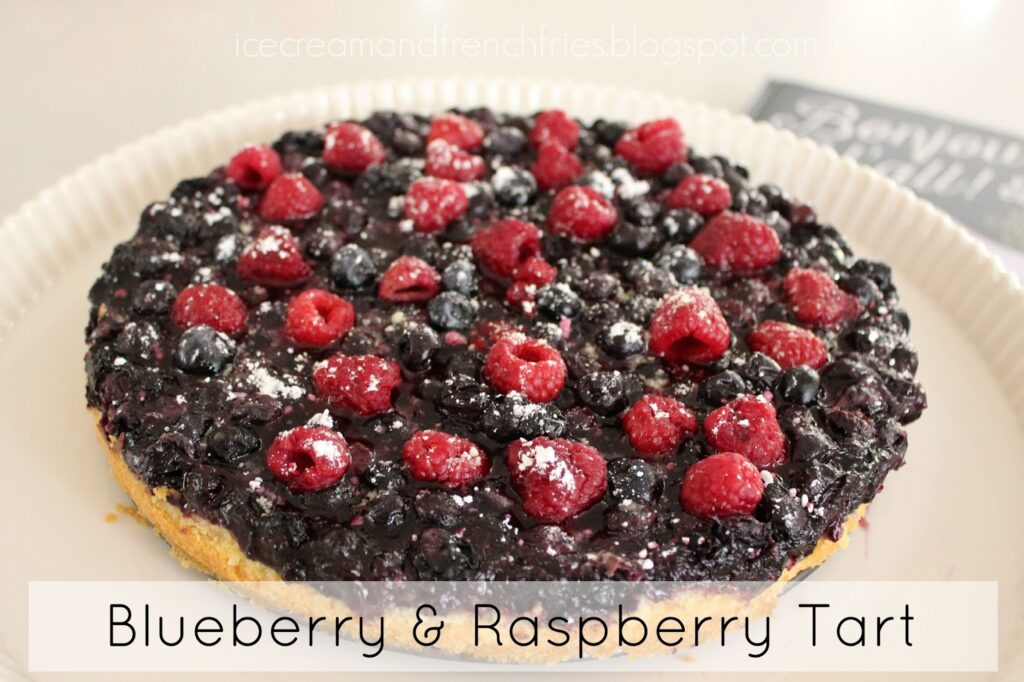 Just in case you want to try it out for yourself…
Blueberry & Raspberry Tart
1 (9-inch)Tart
Ingredients
For the Pastry:
1 1/2 cups all-purpose flour
1/4 cup sugar
6 ounces butter
2 tablespoons lemon juice
For the Topping:
1/4 cup all-purpose flour
3/4 cup sugar
1/4 teaspoon cinnamon
5 cups fresh blueberries, divided
For the Assembly:
1/2 cup fresh raspberries
Confectioners' sugar
Real whipped Cream
Directions
For the Pastry:
1. Preheat oven to 350
2. Mix flour, sugar, and butter with pastry blender. when mixture is coarse, sprinkle with lemon juice. mold with hands until it forms dough.
3. Press into a 9-inch springform pan.
For the Topping:
Mix flour, sugar, cinnamon, and 4 1/2 cups of blueberries together in a separate bowl.
For the Assembly:
1. Spread topping evenly over the pastry bottom.
2. Bake approximately 50 minutes, until bubbly.
3. Remove from oven and sprinkle with remaining 1/2 cup blueberries and raspberries. Sprinkle with confectioners' sugar when cool, and serve with a dollop of real whipped cream.
Enjoy!
Blogger notes: Although I wouldn't change a thing the tart could easily be made gluten free. Just sub out the flour for either almond or coconut flour.