I feel like I should coin this the "leftover" or "everything but the kitchen sink" frittata, but today we'll stick with Easy Ham & Veggie Frittata. It's so easy that even beginner cooks will impress guests.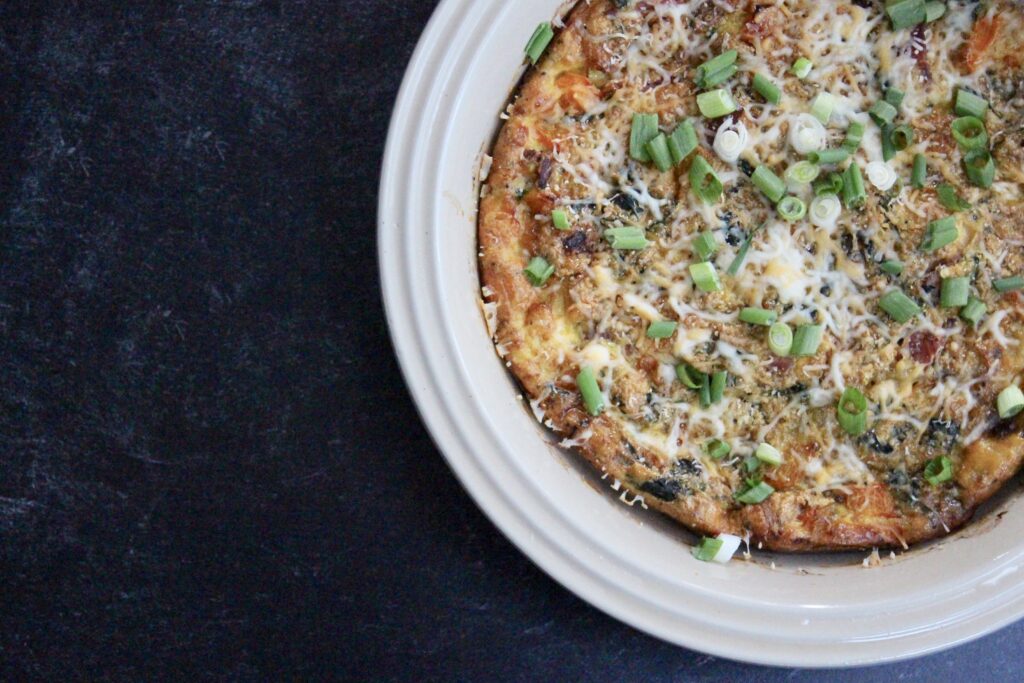 Honestly, it's the perfect way to use those holiday leftovers while feeling like you're getting back into a routine. Does anyone else feel like the Holidays derailed them this year? Good to know I'm not alone 😉
With the new year and a new decade just days away, there are a ton of fitness challenges starting. But instead of joining a 6-week reboot, detox, etc. I challenge you to nourish your body with good food and learn how to meal plan.
What do I mean by meal planning? I'm talking about writing out a list and prepping meals and snacks ahead of time. Essentially, you're setting yourself up for success. Make things readily available. I know it's easier said than done. If you need help sign up for the Meal Plan Master Course and learn how to meal plan/prep like a boss from the pros.
For example, today's Ham & Veggies Frittata recipe is a great breakfast option for meal prep. So what are you waiting for? Skip the detox and learn how to fuel your body through meal planning and prepping.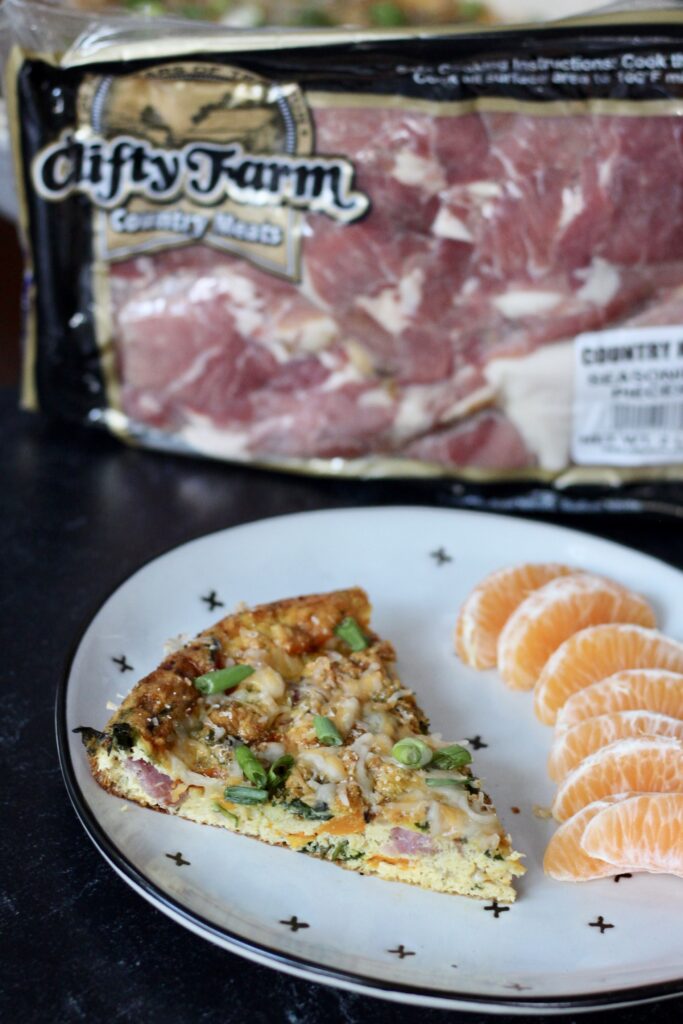 Ham & Veggie Frittata
Serves 4-6
Ingredients
2.5oz Clifty Farm Country Ham Biscuit Cut Slices, diced
8 medium/larger eggs
149g Orange Bell Pepper, diced
50g Spinach
50g Yellow Onion, diced
1 tsp minced garlic
Salt + Pepper to taste
1/4 tsp garlic powder
1/4 tsp cumin
1/4 tsp coriander
28g cheese of choice
green onions (optional)
Directions
Preheat oven to 350 degrees. Lightly grease a 9-inch round baking dish. I prefer to use an olive oil spray.
Heat a small saute pan at medium/low heat and spray with olive oil spray. Add minced garlic, onion and bell peppers and saute for 5 minutes. Add spinach and saute until slightly wilted. Add Clifty Farm Country Ham Biscuit Cut Slices, diced, combine and saute for an additional 3-5 minutes.
Place sauteed ham and veggies in the greased baking dish and set aside. Allow the mixture to cool for 3-5 minutes.
In a medium bowl, whisk together eggs and seasonings.
Gently pour egg mixture over the ham and veggies.
Place baking dish on the middle rack of the oven and bake for 35 minutes.
Remove from oven, sprinkle frittata with cheese and place back in the oven until melted 2-5 minutes.
Once melted, remove from oven and allow the frittata to cool slightly before topping with fresh green onions before serving.
Enjoy!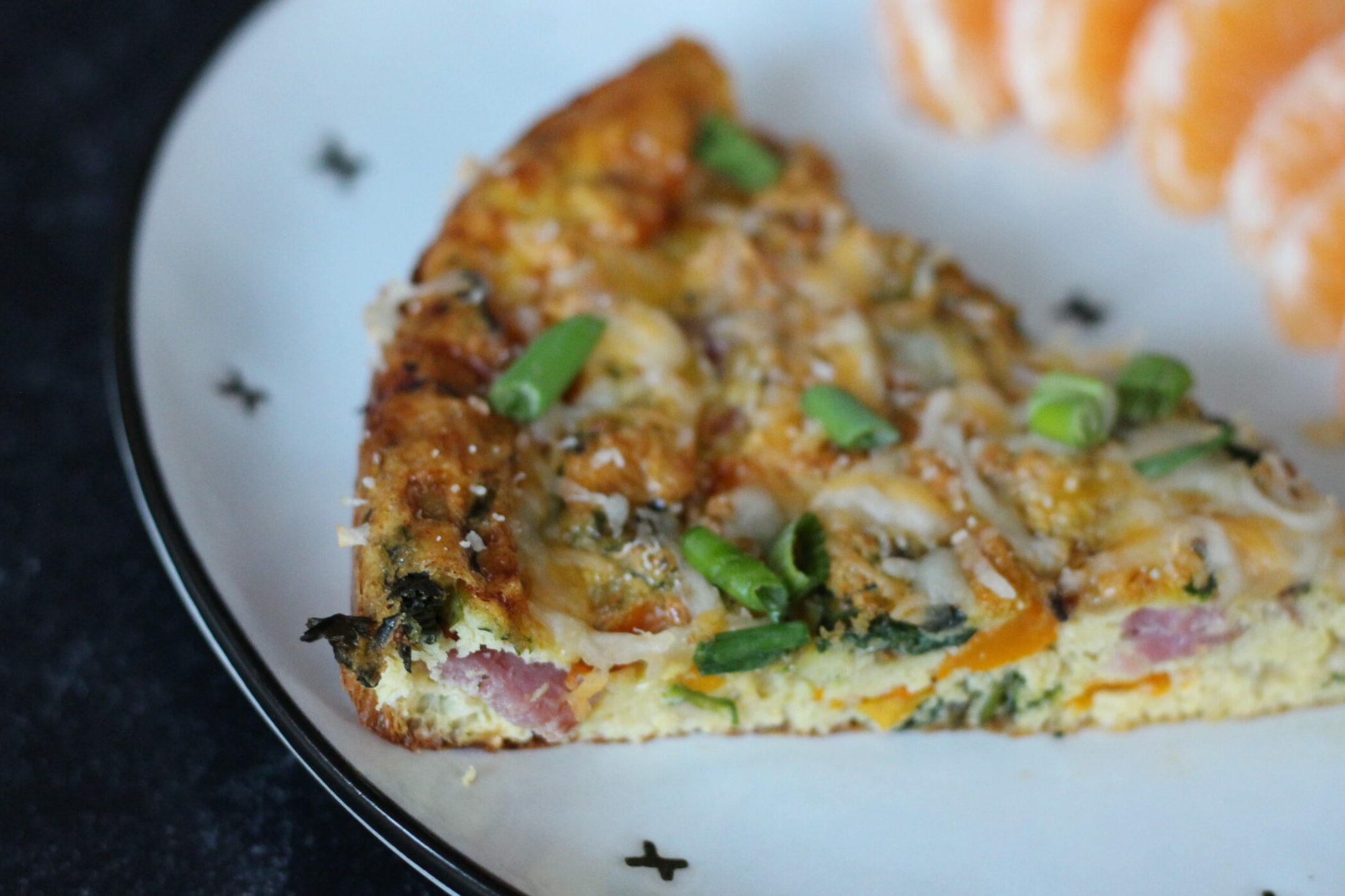 This post was sponsored by Clifty Farm. All opinions are 100% my own. #CliftyFarm, #countryham #southerncooking You can find a coupon HERE.