Jump to Recipe
I live for my morning routine and easy protein pancakes! A morning routine sets the tone for the day. Like, you can accomplish anything kind of tone. I didn't hone in on my morning routine until I started working from home in 2015. Which was about seven months after having Emerson.
I quickly realized that I had to have a solid morning routine if I was going to make it work as a consultant. It probably took me 6-months to find a good groove. There was a lot of trial and error happening. But one thing for certain is if you win the morning, you win the day!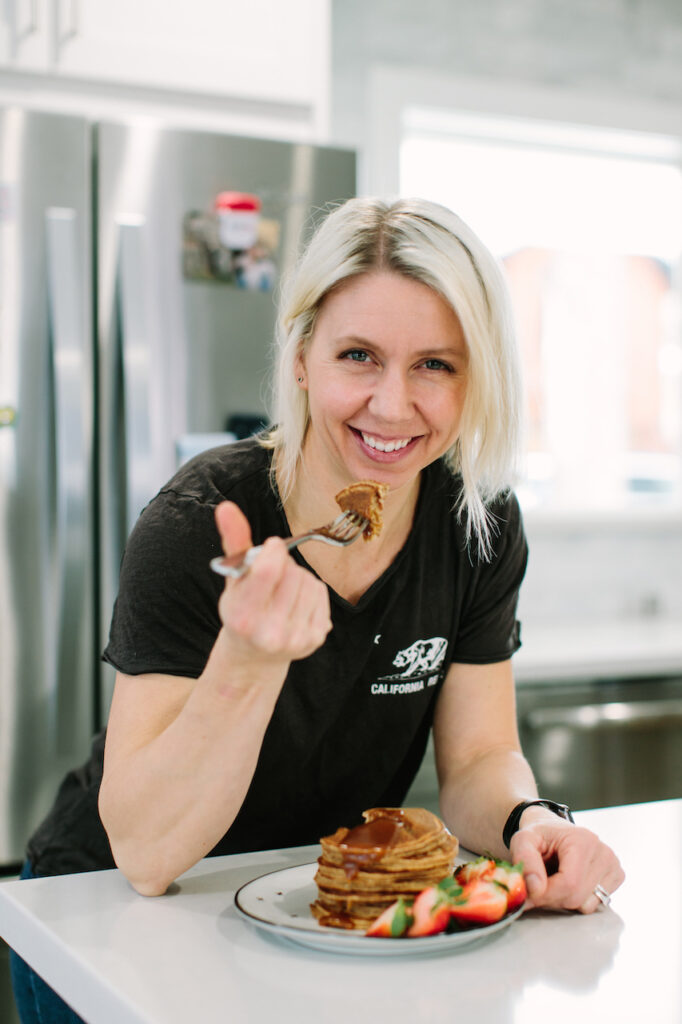 8 Tips to Winning the Morning
Set yourself up the night before.

Prep your coffee, layout workout/work clothes, gather whatever you need for the next day. By doing this, you are eliminating some added morning stress.

Start the day with a brain dump.

I love making lists, and there is something about checking things off said list. By starting with a daily or even weekly brain dump, you can begin to prioritize your day. What needs to happen and in what order.

Move, run, stretch. Get the blood flowing.

It doesn't have to be a full-on routine or replace your regular workout. It can just be a way to get your blood flowing.

Make your bed

There is something so satisfying about making your bed in the morning. Maybe because it makes the room feel less cluttered, or it is a form of practicing good sleep hygiene. Either way, give it a try.

Drink a big glass of water
Don't grab your phone.

Grabbing your phone to check emails first thing will only add stress. Wait. Embrace a device-free morning.

Nail your "getting ready" routine

This is key, especially now that most of us are working from home. Wake up, stretch, drink water, grab a coffee, take a shower, make breakfast, and have some more coffee. Trust me, if you don't have a solid morning routine, it will be noon before you've showered. Speaking from experience.

Make a delicious breakfast.

TThere's nothing better than a nutritious breakfast to start your day. I'm an egg, pancakes, and coffee kind of girl. If I know I need to get out the door early, then it's overnight oats.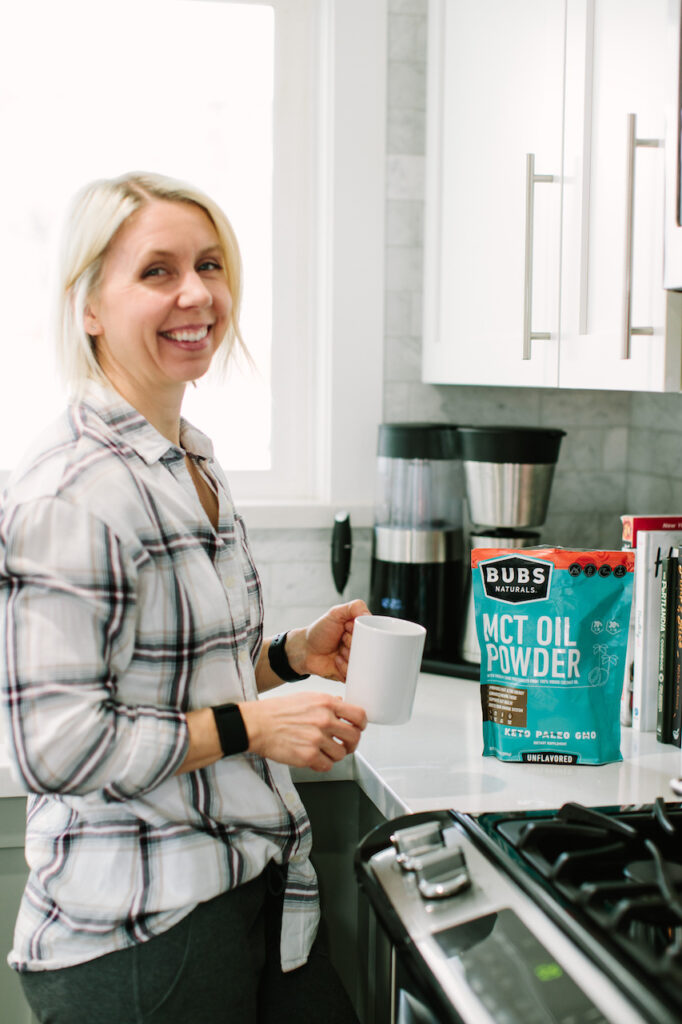 While I've always baked with BUBS Naturals MCT oil Powder, I recently started adding it into my daily coffee.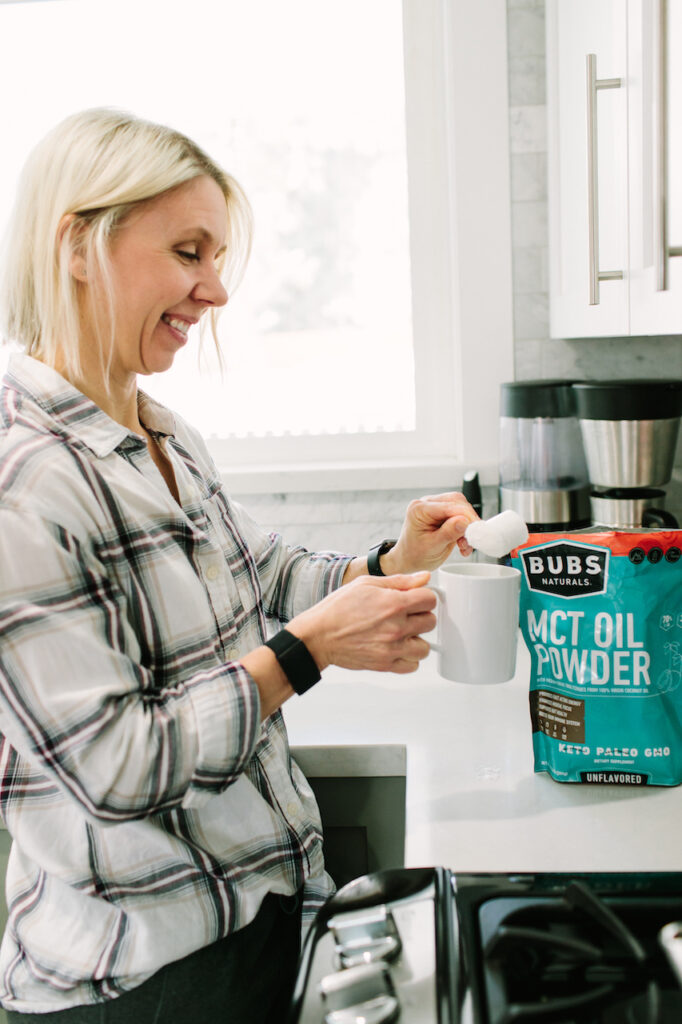 What are the benefits of using BUBS Naturals MCT OIL Powder?
Fast-acting energy
Supports appetite control
Mental focus
Supports gut health
How do you use MCT OIL Powder?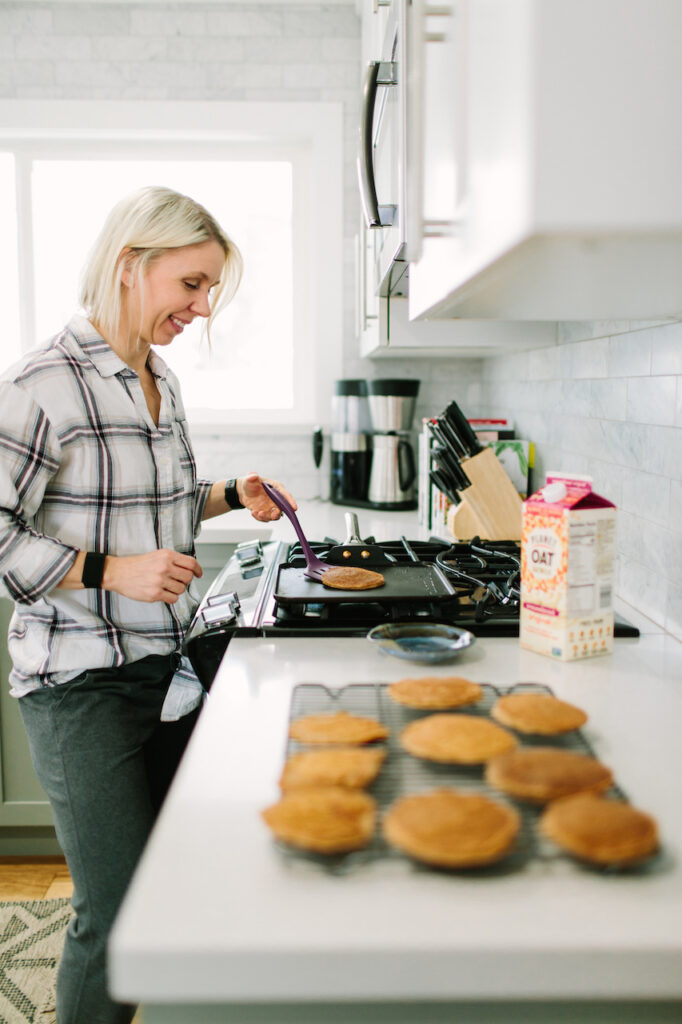 What is MCT OIL Powder? MCT or Medium-Chain Triglyceride Oil is a fast-acting clean energy source for your body. BUBS' MCT oil is extracted from sustainably sourced coconuts and then absorbed into their highest quality non-GMO tapioca starch for a free-flowing powder that absorbs well into hot or cold liquids.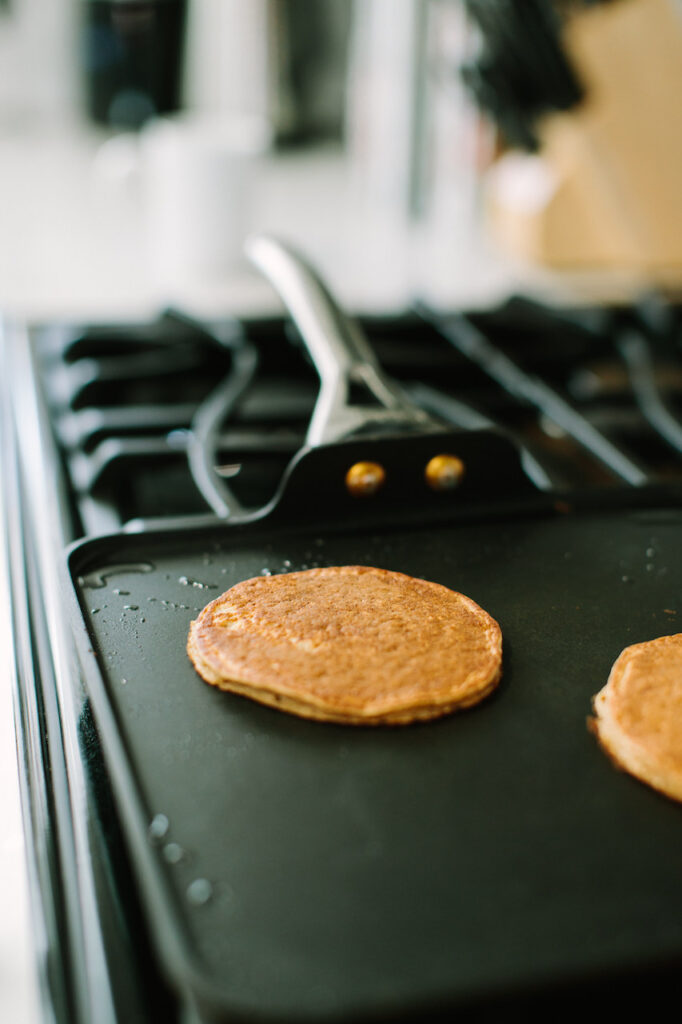 It's the perfect pairing with my So Delicious Oatmilk creamer and morning stack of pancakes! Like collagen, simply add it to your favorite coffee, smoothie, or baked goods! It's unflavored so no one will be the wiser. It adds a nice creamy texture to coffee and soup! Speaking of soup, I made Creamy Vegan Pumpkin Soup using MCT Oil powder. I promise it's SO good you need to save it for the fall. Can't wait to test out MCT oil powder then you might want to make these Fig Scones with BUBS Naturals MCT OIL Powder!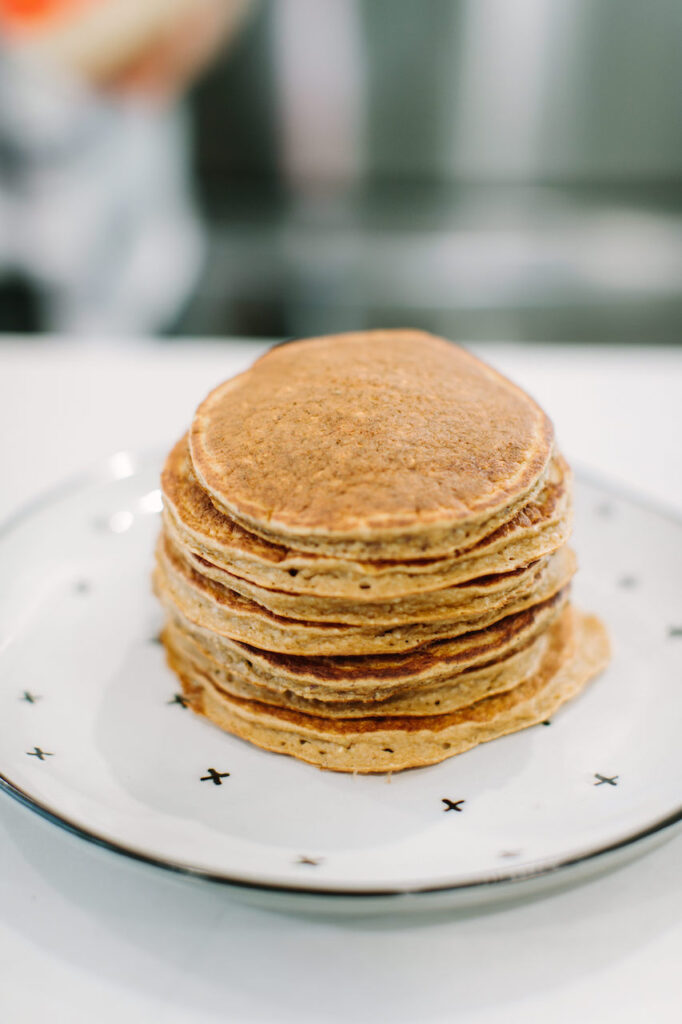 You really can't go wrong. Remember win the morning, win the day!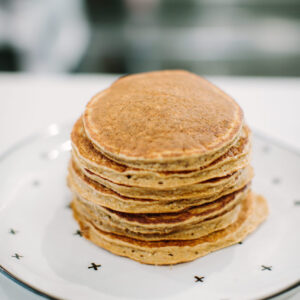 Protein Blender Pancakes
I can't pass up a stack of oat blender pancakes! Can you? These are easy, fluffy, and kid-friendly. Top with your favorite jam, syrup or fresh fruit.
Ingredients
100

g

Gluten-free Oats

1

Banana

1

cup

Unsweetened Oat Milk

1

tsp

Baking Powder

1/4

tsp

Baking Soda

1/8

Salt

1

tsp

Cinnamon

4

tbsp

PB Fit

1

Egg

1

tbsp

Ground Flaxseed

1-2

Scoops

BUBS Naturals Collagen,

optional
Instructions
In a high-speed blender, blend oats until flour-like consistency, making oat flour.

Add in the remainder of ingredients and blend until well combined but not over blending. Scrape down sides as needed.

Let batter rest for about 5 minutes to thicken up, you want it to be pretty thick!

Pour 1/3 cup batter onto a medium-low skillet that has been greased with coconut oil.

Flip over once bubbles have formed and the bottom is golden brown.

Repeat until all pancakes are made.