Well, hello there. Have you missed me? Life's been chaotic, but I wanted to jump on here and share a must make Thanksgiving-inspired dish.
I've been crazy busy between work, launching a nutrition company, Emerson, enjoying Fall in Tahoe, training schedule, and a number of other things. Just know I'm still here and you can always follow my crazy life via Instagram. It's all about food, fitness, and fun over there.
I actually took an unofficial survey via stories the other week and have some fun things in the works for this space. I know I've said it time and time again, but I'm ready to make this space so awesome you keep coming back for more. The first order of business is to show up. So, the goal is 2-3 posts a week. I truly think it's a realistic goal with everything else going on.
Anyway without further adieu, here's an awesome dish you should make stat! I'm just saying 🙂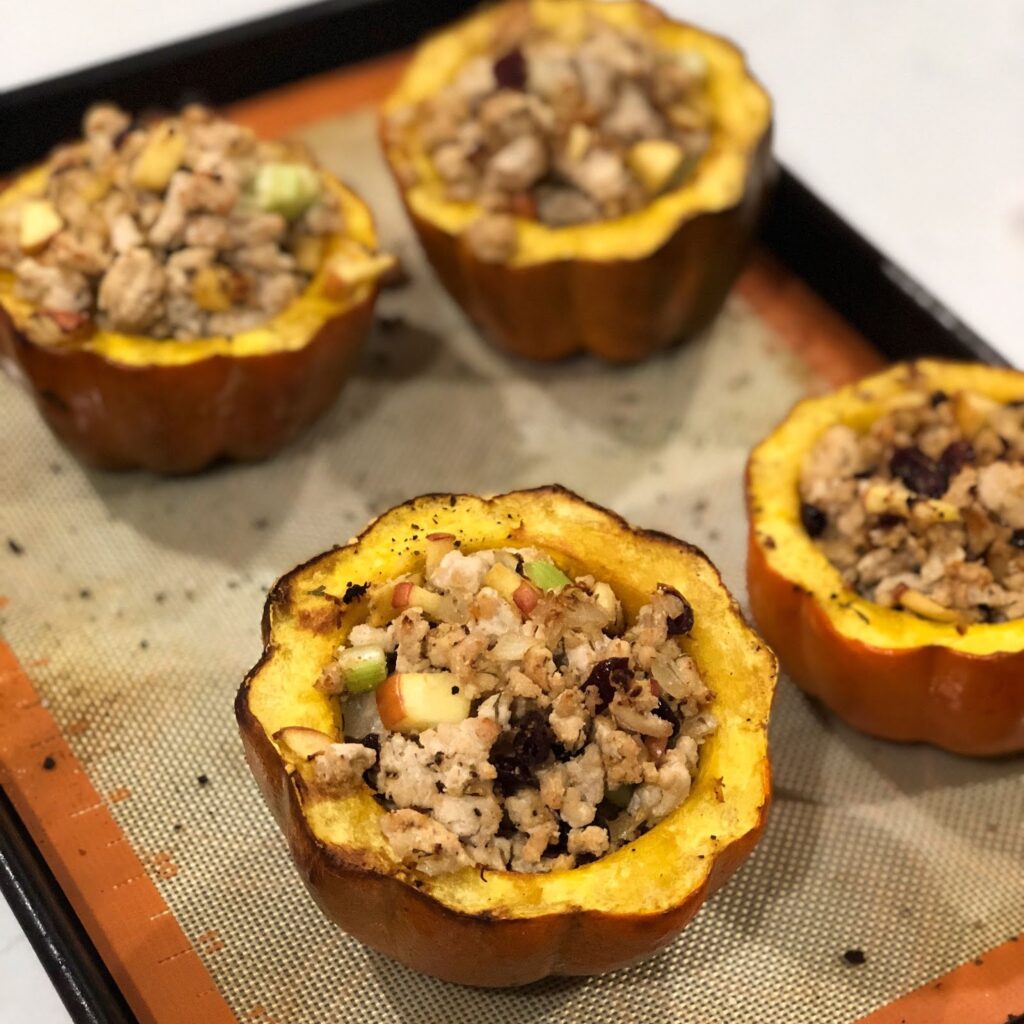 INGREDIENTS
2 small/medium Acorn Squash, cut in the half
1 lb extra lean ground turkey
1/2 yellow onion, diced
1 celery stalk, diced
1/4 cup craisins
1/2 apple, diced
1/2 tsp dried thyme
1 tbsp plain breadcrumbs
3 tbsp parmesan cheese, grated
1 tsp chicken or vegetable broth
1/4 tsp garlic salt
1 tbsp avocado oil
salt and pepper for taste
DIRECTIONS
Preheat the oven to 400 F
Create a flat surface by cutting the bottom and the top of the squash. To create "bowls" cut the squash vertically. Scoop out all the seeds, lightly spray halves of the squash with olive oil, and season with garlic salt and pepper. Roast on a lined baking sheet for 50-60 minutes.
Meanwhile in a nonstick pan add ground turkey, season with salt and pepper and cook until the meat is cooked through. Set aside. Add olive oil to the pan and add onions and dried thyme. Cook until the onion is translucent. Next, add celery, apple, and raisins and cook for another 3-ish minute. Return the meat to the pan, add chicken broth, salt, and pepper — cook for a few minutes. Lastly, add breadcrumbs and cheese. Combined everything.
Fill squash evenly with the meat "stuffing" and bake for 15 minutes.