Hey there party people. Who's ready for another week? This gal! That's right. Life's great. Work is great and I FINALLY launched a passion project. Even if I'm still working on a name. So what did yours truly launch? Well, I'm a certified Nutritionist and I'm coaching people how to create a healthy and balanced lifestyle! No, it's not an MLM (and I have nothing against them). I studied my little but off all summer and acquired my cert through Precision Nutrition!
So what's next you ask? I've been working one on one with clients since July and am currently running a 6-week macro challenge. Everyone is killing it and I couldn't be happier. You can find more details and sign up to work with me here.
I LOVE showing folks how to eat the food they love while still achieving their goals. I'm a goal based nutrition coach who believes everything starts with FOOD. Sorry, but you can't out exercise a bad diet.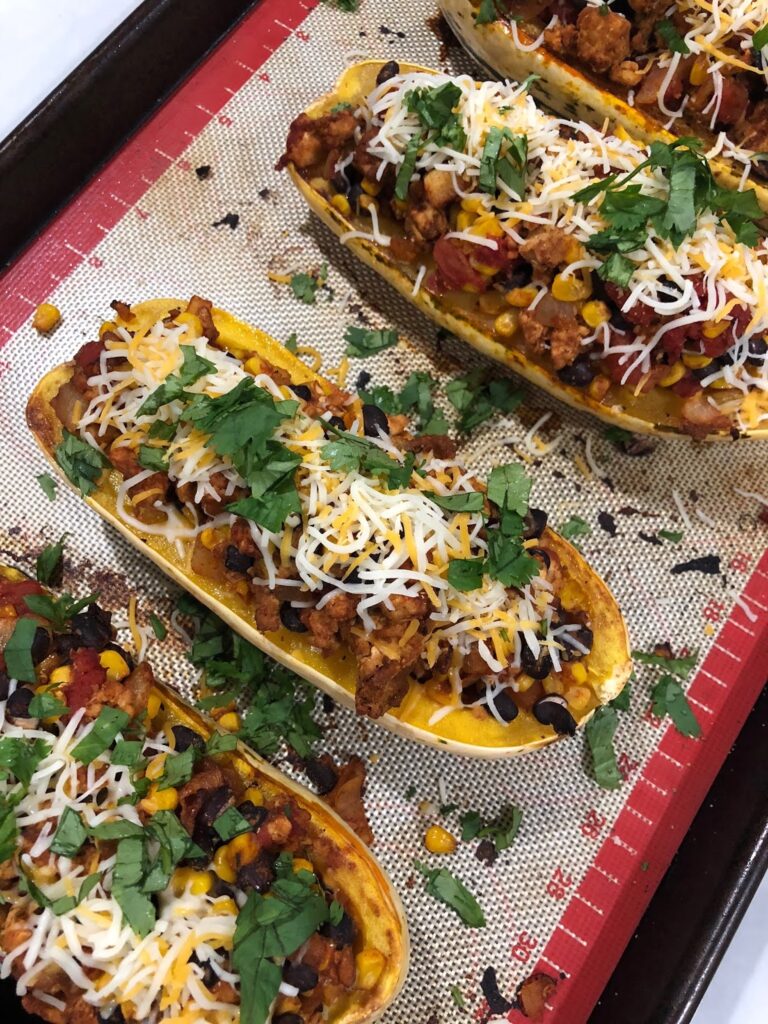 Personally, I eat to fuel my training. It's that simple. If I dive a little deeper I'm trying to focus on eating all the seasonal fruits and veggies like squash. While my hubby may disagree there's nothing better than stuffed squash this time of year. Last week I ate all the squash — acorn, delicata and spaghetti squash! However, I want to talk about the Southwest Stuffed Delicata Squash I made because not only was it uber easy to make it was delicious especially if you like Mexican food or chili (hubs note).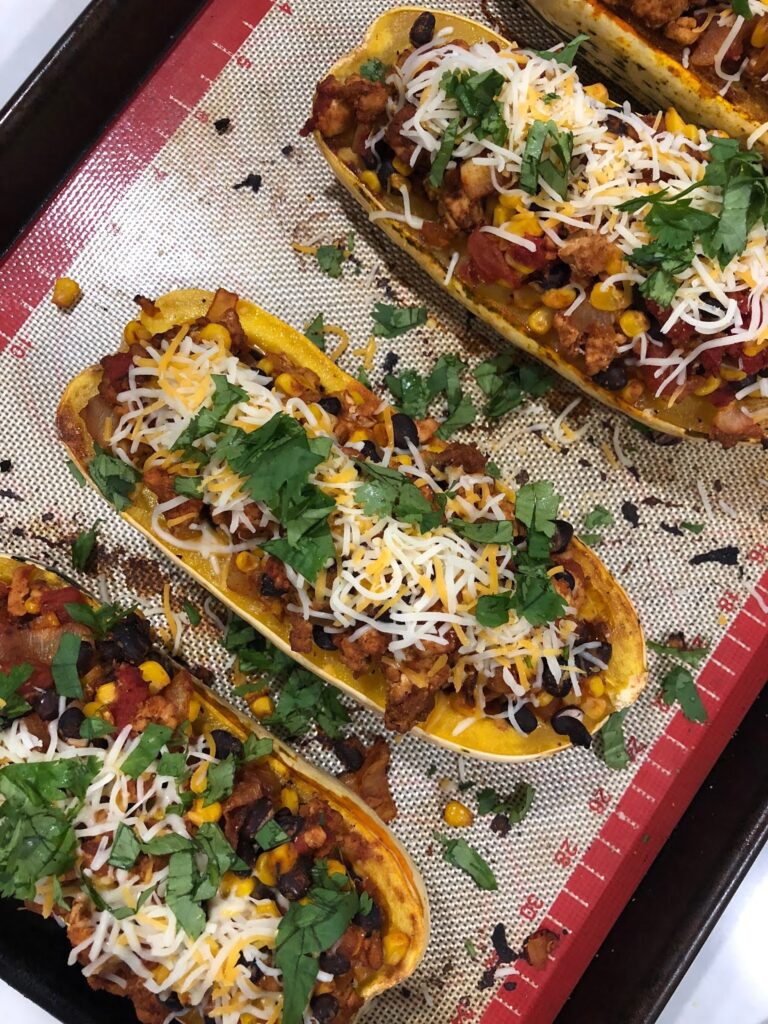 Southwest Chili Stuffed Delicata Squash
Serves 4-8

Ingredients
2-4 delicata squash halved lengthwise, seeds removed
1 tbsp extra virgin olive oil
1 medium yellow onion, chopped
1 clove garlic, minced
1 lb. lean ground turkey
1 tbsp Trader Joe's chili lime powder
1 tbsp chili powder
1 tsp smoked paprika
1 tsp ground cumin
1 tsp dried oregano
250g corn
15 oz can diced tomatoes
15 oz can black beans, rinsed and drained
1/4 chopped cilantro
1/2 lime
1/2 – 1 cup cheese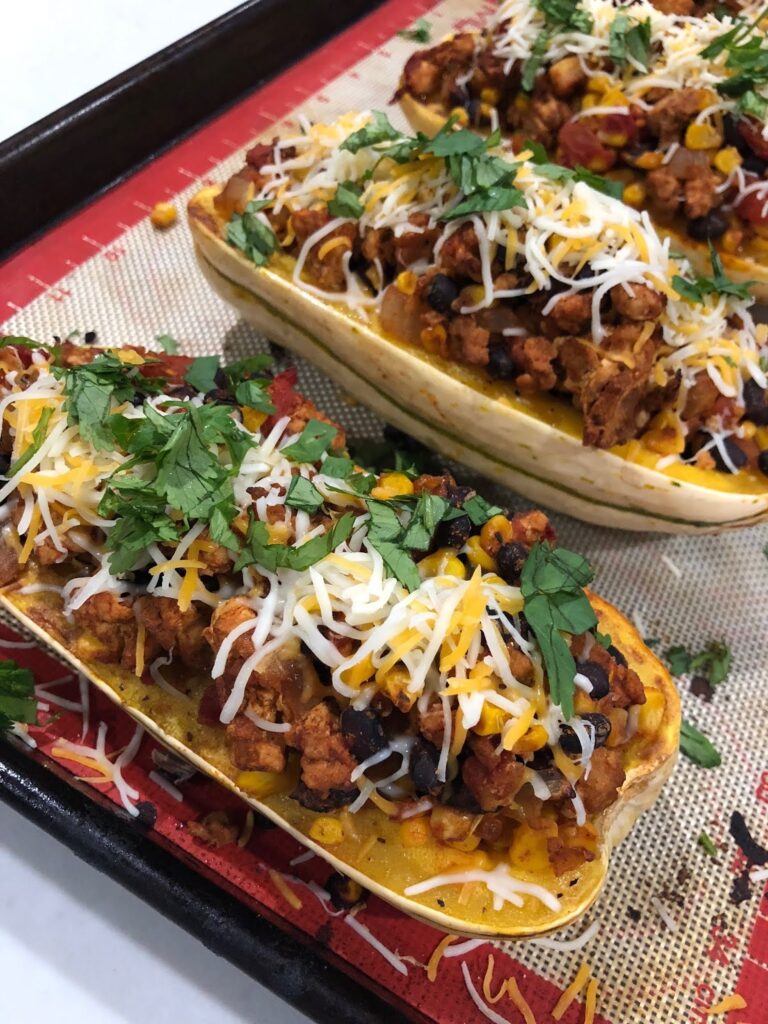 Directions
Squash: Preheat the oven to 375. Lightly spray squash with the olive oil, and sprinkle with garlic salt and pepper. Place cut side down on a lined baking sheet and roast for 20ish minutes, or until soft. Set aside.
Chili: Heat the olive oil in a large saute pan. Add the onion and cook until translucent. Add the garlic and spices cook until fragrant.
Add the ground turkey and coat with the spice mixture. Cook until no longer pink.
Add the corn, diced tomatoes, and black beans, and bring to a boil. Reduce heat and simmer on low for roughly 5-10 minutes. When ready fill the delicata squash with the chili. Return stuffed squash to the oven and cook for additional 10-15 minutes. Top with cheese, cilantro and a squeeze of fresh lime (if desired).
FYI, the above directions will fill 4 whole delicata squash. If you cook less expect leftover chili filling. 😉
What's your favorite squash?